For any small business it has become essential to have a strong and reliable online presence. If you don't mind taking full creative control of your website, you can use an online DIY website builder without any knowledge of coding. As there are countless alternatives, we prefer to point out what really matters: how exactly can your business benefit from the SiteSupra website builder?
Unique online presence
Obtain a genuine online identity without professional costs. With SiteSupra you are able to maintain a website that reflects you in real time as you grow. Present your product, your message and your image according your individual needs. And most importantly, your new website will adapt and look great on any screen.
Full creative control of the template
SiteSupra website templates can be customised to meet a variety of functional needs: from fully-featured corporate websites, simple online stores and blogs to concise promo pages – all within a web browser and with zero knowledge of programming. Design-wise SiteSupra offers a constantly growing number of website templates for users to choose from. These templates range in tone from formal to more playful, complex to simple, but all offer the same set of functional features that can be switched on and off or reshuffled to meet the specific needs of the client.

Powerful tools
Small businesses can now work with capable CMS and its features, which previously only large corporations could afford. Now you can easily configure web pages simply by dragging and dropping functional blocks from the repository to a part of your chosen page. Make use of SiteSupra's back-office apps accessible via a convenient dashboard and BULLET-PROOF HOSTING. SoftLayer is the largest privately held Infrastructure-as-a-Service (IaaS) provider in the world with a diverse customer portfolio from Web startups to global enterprises. Keep your data safe!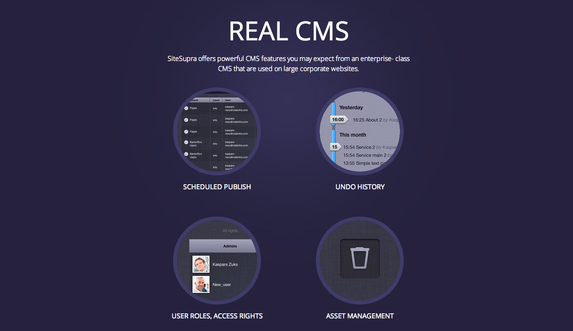 Professional advice and support
SiteSupra's strength is its WYSIWYG editor when the page itself is in edit mode allowing you to hover over, select and interact with different page elements. Yet there are always specific questions to which you can quickly receive answers by sending a message to our support team.
Increased website visibility
Search Engine Optimisation options allow you to establish keywords, a META description, page priority and the frequency with which the page is modified. In other words, you are able to share your work in accessible and effective way.

Best available pricing plans
To follow SiteSupra's vision and stay committed to providing the maximum support for small businesses that do not have bottomless pockets, SiteSupra has announced significant price cuts for its Standard and Business packages which makes us one of the lowest priced services on the market.
Summary
To manage a strong and reliable online presence, all you need is an idea! SiteSupra will take care of the rest -
see our responsive templates
that can be fully customised with excellent tools that will increase your site's visibility to search engines. Whenever you need advice, you can always contact our support team. And you can get all this for the lowest price currently available.