A CV is your personal advert. This article will help you to put together a magnificent online resume to impress all prospective employers. Long gone are the days of text-only resumes - it's time to make a creative showcase of your accomplishments. It may seem obvious, but the first section of your CV is your first chance to introduce yourself to a potential employer; therefore, it should include two types of information:
Information about yourself
If you have worked before, list your previous jobs, and your duties in each position. Think about the skills and talents it took you to do each role. Note your hobbies and interests as well.
Job information
Gather specific information on the position you are applying for. Assemble your duties to match your skills with the job specification. If the job advert is vague, call the employer to ask for a more detailed description. Don't forget to indicate your education and experience.
When you have complied all the appropriate information, select which template you will use for the advanced resume. We recommend the Drava template, with which you can develop a sleek one-page scrolling CV. And here's how to create a brilliant showcase for yourself:
Select a simple, light and clean image which best describes your passion and career. In our example we are developing a CV for sports store manager John Thomas, who is also a well-known long-boarder, so we will use this image.

See our CV example here.
It is important to identify the structure and the content in advance, otherwise you will end up with wasted time and no idea what to do after all. The most useful advice we can give you is to put your thoughts on paper before you begin. This is how human resource basic requirements meet creative performance: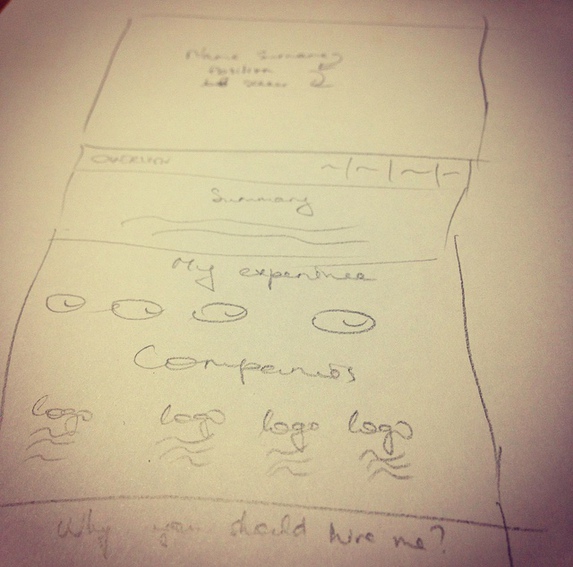 In the next step you should change the background image, then edit Slideshow block. Write your name and position, and mention that you are looking for new job opportunities.
To avoid any possible disappointment, we have developed this sample CV, which you can use as your base.
Building your resume
Add a summary right after the first image - tell your potential employer who you are. A text block is the best option for doing this - you can set styles for heading and body within one block. Recruiters also want to find out about your experience. There are various ways to present your background. We have used text block for the titles and the latest project slider block to list the skills. Another important element is to show what companies have you worked for. There are many options from which to choose - you can add text block, a gallery or a few logo blocks.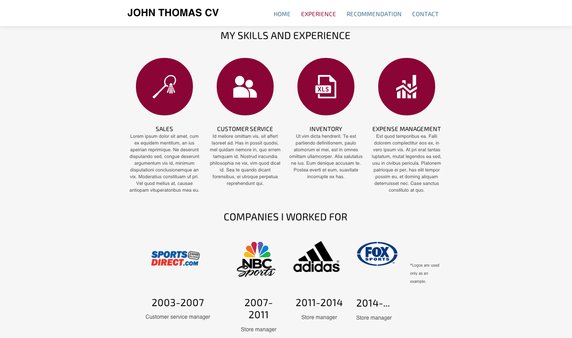 When you have listed your expertise and previous employers, it's time to add some interesting facts about yourself. Be original - age or working hours will not make any impression, but if you can highlight accomplishments related to work experience then go for it. In this example we used text blocks, customising text colour and size. Add a testimonials block to present recommendations from your previous employers. Take into account that their opinions should be short and business related to make you look professional.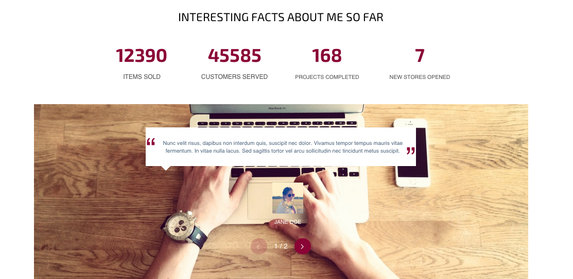 The final section, but no less important, is your contact info. Add your email address and phone number to make sure your next employer can reach you. In our example you will find a link to the LinkedIn profile as well. You can make the recruiter's job easier by adding your social media accounts in the footer.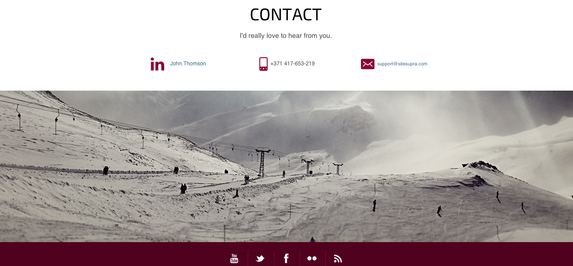 See our CV example here.
Summary
When you find a job that you really want to apply for and which you know you will be perfect for, spend some time putting together a neat CV. Tell the truth, provide facts, and avoid grammatical mistakes. Show that you are creative, contemporary, and able to stand out from the crowd with a magnificent CV.
Share your experience - what factors are you considering while building your online resume?